Once considered a fictitious health condition, Fibromyalgia does not have a decent cure available in today's world. With more than 10 million people suffering from this disease currently, it is slowly becoming a challenge for medical practitioners to find a solution to heal this disease. 
This is where CBD comes into question, for it is being considered as an optimum solution for Fibromyalgia. This miraculous product is known as a therapeutic solution for many health problems, such as stress, anxiety, depression, chronic pain, and inflammation. So why is it being considered so? Is there any evidence to prove the same? Let's find out in this article. 
What is Fibromyalgia?
It is a disorder which is characterized by musculoskeletal pain which spreads across both sides of the body, usually above and below the waist. The pain is accompanied by symptoms, such as, fatigue, sleep, memory loss, cognitive issues, and mood swings. Other symptoms include, muscle tension, headaches, anxiety, depression, irritable bowel syndrome, and TMJ disorder.
This condition is usually developed after a surgery, infection, physical trauma, or psychological stress. Another problem that develops due to this disease is inability to focus or pay attention. Thus, it is quite difficult to live with this disease. 
Women are known to suffer more from this disease than men. There is currently no known cure for the treatment of this disease. Exercise, meditation, breathing technique, and other stress-reducing 

What is CBD?
Cannabidiol, or CBD is a cannabis product, which has taken the wellness and health industry by storm in the last few years. CBD is a therapeutic agent for dealing with many health conditions. If you are wondering whether a cannabis product will cause any side effects in your body, then be assured that it won't. Tetrahydrocannabinol or THC, another cannabis compound, is responsible for producing 'high' in the brain. However, CBD contains very little of it (less than 0.3%) and thus, does not get you stoned. Since it does not get you high, it has become legal in all the 50 US states, However, you must consider the local laws before getting CBD products in your hands. 
How does CBD work in healing Fibromyalgia?
CBD oil has proven to have pain-relieving effects and have anti-inflammatory traits.  During its interaction with the body, CBD interacts with the cannabinoid receptors located in the peripheral and central nervous system. The CNS serves as the pathway for pain signals that travel along—one that is distorted in case of patients of Fibromyalgia. 
It's the peripheral neurons that sends the information about sensory pain to the brain. With the help of CBD, the perception of pain is regulated by enhancement of serotonin receptors. Additionally, the activated CB2 receptors help in the releasing of endorphins, which act as μ opioid receptors in peripheral sensory neurons to hinder the perception of pain in the brain and thus, relax the patient. This also contributes in the production of 'bliss' cannabinoid that is a happy hormone. This helps the patient's ability to deal with pain in a far better way.  This distressing hormone thus, helps in pain relief activities in the patients. 
The research to prove the same specifically, has been limited but let's learn about those that give us a ray of hope for CBD being a potential medicine for treatment of Fibromyalgia. 
A 2012 study published in Translational Psychiatry, revealed that a boost in anandamide can help in dealing with anxiety, depression, and thus, can improve brain functions in Fibromyalgia patients. 
Another study published in 2016 in Swiss Journal Cellular and Molecular Life Sciences, contended that CB2 receptors, when focused on during the therapeutic strategies, can help in reducing inflammation in the body. 
As per this research, published in the Journal of Clinical Rheumatology in 2018,  it was concluded that medical cannabis may have the potential to be an effective treatment for this disorder. 
According to this 2019 research, published in Epilepsy Research, it was concluded that Fibromyalgia patients who suffered with insomnia got 30% better sleep with a single, large dose of CBD. 
Is CBD effective in the treatment of pain induced by Fibromyalgia?
As mentioned earlier, CBD interacts with receptors to deal with the perception of the brain in the body. Serotonin, anandamide, and opioid receptors are all regulated and enhanced when CBD influences cannabinoids to produce more. These receptors thus, influence the perception of pain in the body in a positive way. Molecules like serotonin and anandamide have the ability to lessen the pain when the chemicals signals are being sent to the brain in the form of neurotransmitters.
These chemical signals also interact with glial cells, which have a significant role in amplifying the pain in spinal cord area. The pain is overwhelmingly high in the case of Fibromyalgia patients. The sensory experience (pain) is thus, amplified and then deformed or twisted since the plasticity of nervous system is changed with time. No other medicine has the ability to do the same.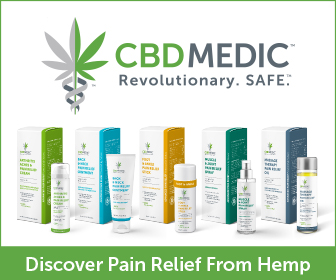 So, even though CBD has the potential solution for the treatment of this disorder, the same cannot be legally recommended by doctors. However, you can thank your stars since the same is available for purchase in formulations of tinctures, capsules, creams, edibles, etc. in the market. And, you can purchase yours from Nuleaf Naturals, read the review at The Cannabis Radar. 
Conclusion
It wouldn't be wrong to say that CBD has turned out to be a miracle in the field of alternate healing. It is safe and easily available in both, online as well as offline stores in America. Another good thing about consuming CBD is that it is completely natural and thus, does not come with any known side effects. All you have to do on your part is to make sure that you buy the product from a well-reputed store and that the quantity of THC remains less than 0.3%.
You can find the same written on the product. Once you are positive about the above two things, be ready to completely heal your body and feel happy in it.